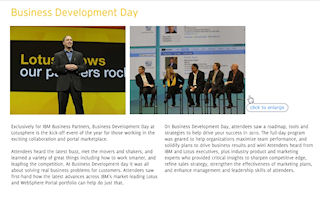 Artikel:
Create and share your Lotusphere® 2010 story
|
Bron
Create and share your Lotusphere® 2010 story and get it printed in a hardbound book - compliments of Lotus®!
We've made the storyboard - just add your words, photos and video clips to make it your own! Change as much or as little as you like. It's easy and fun!
You might have heard it said that collaboration is a good thing. We encourage you to share your best photos and video clips with the group 'Lotusphere 2010' so others can see your stuff and use it in their own stories.
When you're finished with your story, we invite you to share it with the group or make it public. You can even embed your story on your own web or blog!
Don't miss out! Lotus is picking up the tab for the first 500 attendees who order a hardbound book of their story by February 21.
Need a sneak peak before you get started? Click the pages below.