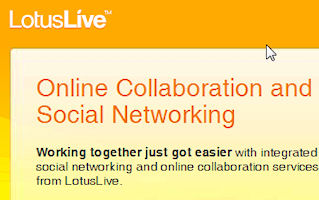 Artikel:
LotusLive Notes update coming up to beta
|
Bron
Last week, I realized I hadn't been blogging too much about my day job recently...sort of that post-Lotusphere quiet that presumes we used up all the good news in Orlando and won't have anything more for a while. Of course, it's not at all quiet -- mostly, we come back from Lotusphere with a better understanding of what to focus on for the year, and align accordingly.
A lot of what my team and I are spending time on is building out the mid-2010 update to LotusLive Notes. We announced this update at Lotusphere as a major expansion of our SaaS Domino offering. LotusLive Notes offer cloud-based Domino messaging services for a low, fixed price per-user per-year, as part of the overall LotusLive environment. There are both technical and business activities in flight on this new version, and while several of them will have to wait for public announcements, I can give you a flavor of what we're up to.
Technically, we've fine-tuned Domino for the SaaS architecture. Much of this is behind-the-scenes implementation for use in our own data centers, but some of these features will eventually be incorporated into Domino updates for your on-premises environments. For example, on the server side, Domino-as-LotusLive Notes has the ability to run in a truly multi-tenant environment, completely separating process and data for multiple instances in a single server. On the client side, Notes 8.5.2 will have a few distinct new features for use with LotusLive Notes, including a robust local cache which improves Notes behaviors in a clustered environment. Of course, LotusLive Notes will feature Domino's best-in-class iNotes for web access, though I'll just get it on the table now that the UI will call it "LotusLive Notes web" so as not to be confused with its sister, LotusLive iNotes.
On the business side, much of what we are up to relates to how we price and package LotusLive Notes, offer services like mobility and archiving, and plan for customers who want to move to cloud (or run a hybrid environment of cloud and on-premises Domino). One advantage of the software-as-a-service model, of course, is that we can address some of these requirements over time -- though in IBM's view, SaaS doesn't mean daily, whiplash updates, but rather continued planning and staging as services update and evolve.
We'll be going to beta with this updated service in a few weeks, starting with beta participants in North America and then expanding out. The beta program is not for "tire kickers" -- we are looking for serious testers who will sustain their testing activity as beta progresses. If you are interested, let me know.